UPDATE 3: I've posted some pictures of 3 possible finalists in this year's Casting Call Contest over here.
UPDATE 2: Read a second response to the technical issues people have been having with this year's Casting Call Contest over here.
UPDATE 1: Read an interview with (the parent of) a casting call finalist and a statement from Disney Family regarding the technical issues with this year's Casting Call Contest over here.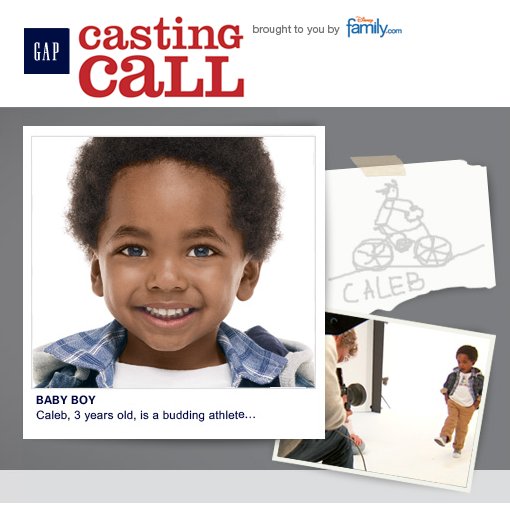 They've been teasing us for well over two months now, but tomorrow (September 22, 2009) marks the official launch of the 2009 Gap Casting Call. This year's contest runs from September 22 through October 22 (it's a week shorter than last year) and for the first time, Gap is partnering with DisneyFamily.com to offer some "exciting additional prizes".
To enter your adworthy offspring (babies, ages 4 and under and kids, ages five to 10, are eligible to participate) in this year's online contest, visit gap.com/castingcall and upload a photo. Once the initial entry period is over, here's how the contest will play out:
Once the entry period closes, a panel of judges will narrow down all of the entries received to 20 finalists (five baby boys, five baby girls, five boys, and five girls). Those finalists will star in a professional Gap photo shoot the week of November 16, 2009. On December 7, 2009, the finalists will be announced on www.gap.com/castingcall and will be voted on by the public until December 21, 2009. The four children who receive the most votes (one from each of the categories) will be announced as the winners on February 1, 2010.
Finally, since not everyone is a professional photographer, I thought I would include some helpful photo taking tips from world-renown child photographer, Stefano Azario:
Get Close: Zoom in to get as close as possible to your subject's face so it's clearly visible. If your subject's too far away, they'll get lost against the background.

Show Personality: Truly memorable photos let your subject's personality shine through. Avoid stiff smiles and forced poses as they can come across as artificial and generic. Instead, take your time and follow your subject as they relax in or move through an environment that's comfortable to them. Also, avoid hats – they're cute but we want to see faces and hair!

Watch the Background: Shoot the photo against a simple background so your subject really stands out. Don't forget to move anything nearby that might be distracting.

Try Different Angles: Try angling the camera or shooting from different perspectives to make your photos more memorable. It's also important to photograph kids at their eye level rather than standing over them.

Use Natural Lighting: Sunlight is much more flattering than indoor lighting. Use filtered, natural light to enhance colors and skin tones. Try not to shoot with the sun behind the camera as it will likely make the subject squint and will also cast strong shadows.
(Just in case you were wondering, they are not doing the in-store photo tour this year.)
Some more details about this year's prizes and the official contest timeline after the jump.
Here's what this year's winners and finalists will receive:
All 20 (5 boys, 5 girls, 5 baby boys, and 5 baby girls) finalists will receive:
• Professional Gap photo shoot
• $500 Gap GiftCard redeemable for a babyGap or GapKids wardrobe
• Deluxe Disney gift bags:
• Jonas Brothers' Lines, Vines and Trying Times CD
• Demi Lovato's Here We Go Again CD
• A special selection of books from Disney Press
• A 20″ Winnie the Pooh Plush from DisneyStore.com
• Disney Movie Club DVD Prize package including Bolt, WALL-E and Mary Poppins 45th Anniversary Special Edition

In addition to the finalist prizes, the four winners will receive:
• Their photo featured in babyGap and GapKids windows nationwide in February 2010
• $500 Gap GiftCard redeemable for a babyGap or GapKids wardrobe
• A VIP experience for four at Disney's THE LION KING in New York or Las Vegas

Fan Favorite
The one lucky entrant who receives the most fan votes will be crowned the Fan Favorite winner. The winner will receive a seven-day/six-night family vacation to either Turks & Caicos or Jamaica from Beaches Resorts – The Luxury Included Family Vacation. Voting runs from September 22, 2009 through November 17, 2009, and your family and friends can vote daily. The Fan Favorite winner be announced on December 7, 2009.
But wait, there's one more thing… This year's contest has a prize that even the grown-ups can win:
Voters' Sweepstakes
For each vote cast at gap.com/castingcall, voters will be entered in a contest to win a weeklong Luxury Included Caribbean family vacation to Beaches Resorts in Turks and Caicos or Jamaica.
Casting Call Contest Timeline


Since everybody went bonkers about notification dates last year, I thought I would include an excerpt from this year's official contest rules about the schedule:
7. EVENT SCHEDULE: The applicable dates, times and deadlines for the Event are as follows (Pacific Time).

Submission Period: September 22, 2009 (12 A.M. PDT) to October 22, 2009 (11:59 P.M PDT).
Fan Favorite Voting Period: September 22, 2009 (12 A.M. PDT) to November 17, 2009 (11:59 P.M. PST).
Fan Favorite winner announced: On or about November 19, 2009.
Top 20 Finalists Judging Period: October 23, 2009 (12 A.M. PDT) to December 6, 2009 (11:59 P.M. PST).
Grand Prize Voting Period: December 7, 2009 12 A.M. PDT) to December 21, 2009 (11:59 P.M. PDT).
Grand Prize winners announced: On or about February 1, 2010.
The dates and times set forth above are subject to change in Administrator's sole discretion. In the event of any change, notice of the revised date or time will be posted on the Website.